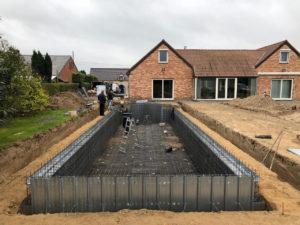 Site opening
The day of the opening of the construction site of your pool is the most important. The customer gets to know the project manager. He will be responsible to him for the smooth running of the construction site and the respect of the company's commitments. It is at the opening of the building site that all the choices are checked and definitively fixed on the site: location of the pool, the beaches, the technical room, the finished levels, connections to the surroundings, last choices of finishes for your reinforced concrete pool, access to the building site, evacuation or spreading of the land…
Definition of pool location
Layout and staking of earthwork reference points
Tolerances exist in the layout of the pool, in case of exact alignments, the layout will be done by a surveyor (optional).
Taking the levels of the existing land.
Determination of the finished levels and the reference level.
Drawing of the trenches, mention and location by the client of obstacles and buried structures.
Definition of the location of the technical room and the connections such as water supply, electricity, drains, heating, etc.
Provision of water and electricity points necessary for the construction site
Reviewing the project in detail and checklist
Pool decks
The evaluation of additional earthworks is done on site with the project manager. To optimize this position, look for and communicate any useful information: possibility of removing excavated material, nearest landfill site, nature of the ground, presence of water, rock, buried structures to be protected, etc…
Swimming pool decking
The dimensions of the earthwork are slightly larger than the swimming pool according to the requirements of the pool construction technique with Leaderpool we count inside the pool plus 30 cm.
The bottom of the earthwork is levelled according to the agreed depths and profiles.
Unless otherwise stipulated, the earthwork is done directly with the earthmoving company.
Unless otherwise stipulated, the excavated soil is left in place and spread out with an excavator in the immediate vicinity of the pool.
Unless otherwise stipulated, the redevelopment of the surroundings and the backfill after the work (pool, trenches, embankments, etc.) must be costed in the estimate or else remain the responsibility of the customer.
If there is underground water (groundwater), drainage, pumping, waterproofing and, if necessary, adapting the construction of the swimming pool must be planned on a case-by-case basis, which may increase the price of the swimming pool.
In case of presence in rock or reinforced concrete subsoil (demolition), the use of a rock breaker or a diamond saw will be the subject of a supplement to the estimate, fixed price or on a contract basis, payable by the customer.
In the event of difficulties due to the nature of the subsoil, stability problems or insufficient bearing capacity, underpinning work may be necessary for the proper construction of your pool in addition to the estimate.
Access to the site for all mechanical equipment such as cranes, earth-moving lorries, concrete pumps, etc. is guaranteed by the customer and remains his responsibility until the end of the work.
Translated with www.DeepL.com/Translator (free version)